FESCO Transportation Group (FESCO, the Group) ensured the delivery of the Power Machines company's equipment to the Long Fu-1 Power Plant (TPP), which is under construction in Vietnam. The Group completed the full transport and forwarding support for the delivery.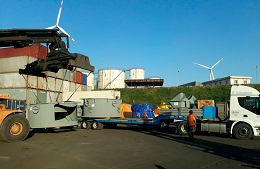 Outsized and heavy cargoes with a total weight of 444 tons and a volume of 1,426 cubic meters were transported from warehouses in Duisburg (Germany), Vetter (Germany) and Izmir (Turkey) to the port of Ho Chi Minh (Vietnam). FESCO created an individual plan of intermodal transportation. The delivery was carried out by three lots in close coordination with customer representatives, agents and carriers. The total transit time was 50 days.
The transportation of outsized and heavy cargoes is a part of FESCO's strategy to expand its presence in the project logistics, enabling the Group to use its expertise and competence providing unique and complex services.
Contract for construction of Long Phu-1 TPP with a total capacity of 1200 MW was concluded between the Vietnamese company Vietnam Oil and Gas Group and international consortium «PM-PTSC» being a member of Power Machines, acting as the consortium leader, and Petrovietnam Technical Services Corporation (Vietnam) in December, 2014.The term of the project finish is the year 2019.